Bridal Lookbook - The Gen-Next Bride
This year, Lakmé Salon is celebrating the modern-age millennial bride. The Gen-Next Brides is a collection of contemporary wedding looks dedicated to every free-spirited bride-to-be who likes to add a personalized touch to traditional elements. This bride is not just bending the old age wedding rules; she is rewriting them. And she isn't coy during the celebrations. Instead, she flaunts her real self and is happy as a punk to embark on this new journey and she does it all in style and smiles.
Each of our contemporary looks has been put together keeping in mind the new expectations from brides. Whether you opt for a virtual wedding or go for an intimate setting, we have looks befitting all your bridal moods to make sure you turn the minimal into something phenomenal.
To help you be the star of your D-day our National Creative Directors & salon experts bring you the best of bridal beauty trends. 55+ in-salon safety measures have also been implemented in consultation with medical experts to keep you safe.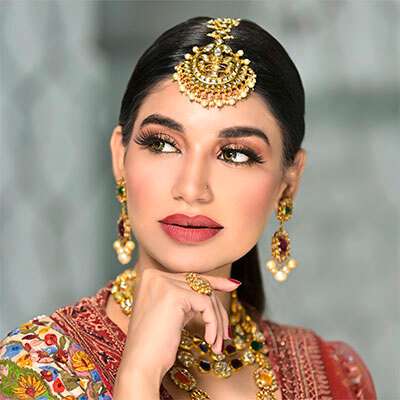 The Shimmery Showstopper Look
The modern bride knows how to make her moment count and is ready to rule the runway on her special day. Embracing her individuality, her sensuality while paying tribute to her favourite traditions, this looks sums up the contemporary Indian bride.
MAKEUP: Soft, glass-glow skin and eyes highlighted with pink, peach, and a pop of champagne. The lovely peach-pink blush adds a charming rosy tinge.
Hair: A no-fuss updo in an elegant low ponytail played up with a Maang Tikka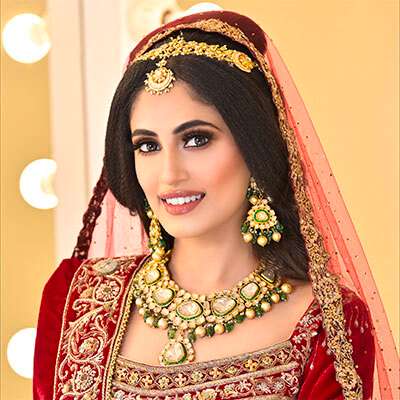 The Glowing Goddess Look
She is the embodiment of timeless grace and a modern aesthetic. This look channels the traditional Indian bride with a touch of contemporary style. The contrast between her vermillion outfit, emerald jewellery, and glass-glow skin aptly expresses her individuality while staying true to tradition.
MAKEUP: Gorgeous, glass-glow skin with the highpoints of sharp, well-groomed eyebrows and sculpted, glossy lips. Deep berry and pink gradient eyeshadow with luscious mink lashes to accentuate the kohl-rimmed eyes.
HAIR: Open hair, crimped for volume with a Sheepatti to crown the look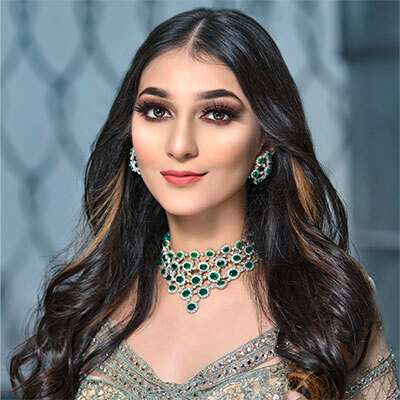 The Dazzling Diva Look
Indulge in the mystical beauty of mehendi with a look carefully curated for your special day. With a colorful lehenga that steals the show an makeup to match, this is a low-fuss yet resplendent look for when fun is the first priority!
MAKEUP: Shimmery eyes and winged eyeliner bring out the diva in you. Fresh, dewy skin with soft, pink lips complete this simple yet shimmery evening look.
HAIR: Open, free-flowing hair with subtle highlights to accentuate your natural beauty.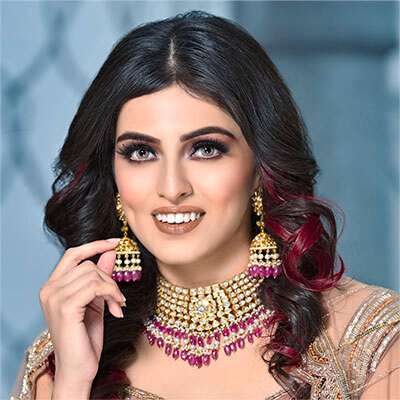 The Smokey Starlet Look
This look is a perfect match for the bride who wants to play it cool and minimal on her wedding day. With free-flowing hair complementing her favourite color, it is the embodiment of her individuality. For a bride who isn't afraid to be herself and bend a few rules, this look celebrates her innate glory.
MAKEUP: Alluring smokey eyes with berry-black and champagne highlights paired with glowing, dewy skin with chic, nude brown lips and a peachy glow on the cheeks.
HAIR: Carefree, beachy waves parted down the middle with a youthful pop of color completes this bride's perfect look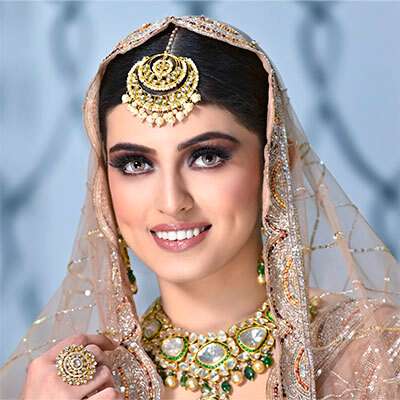 The Smokey Starlet Look
This look is for the bride who believes in comfort and tradition. This look highlights your natural features for an outcome that's beyond stunning. With a modern-cut lehenga, champagne pop-up smokey eyes, and a neat, pulled-back hairstyle, this look is sure to make a statement.
MAKEUP: This look starts with standout eyes with mink lashes, berry-black eyeshadow and champagne pop highlights for a bold, smokey eyes look. Minimalist, natural-looking skin with soft peach highlights, complete with shapely, bold brows and soft yet sculpted pink lips will have you baraat-ready.
HAIR: A low bun, parted in the middle for the Maang Tikka to keep the look simple yet gorgeous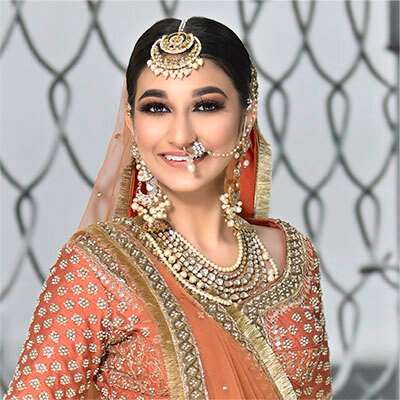 The Peach Princess Look
This look is for the understated, day bride. The modern design of the outfit paired with traditional Kundan jewellery brings in the best of the two worlds. Natural, glowing skin with bronze accents and pink highlights keep it classy with a hint of sparkle. The rest of that colour on your cheeks? It's all your joy.
MAKEUP: A pretty each glow effect paired with shades of bronze, pink, and berry, completed with a shimmery shadow. Voluminous mink eyelashes and orange-red, sculpted lips unveil this bride.
HAIR: A sophisticated, neat bun with a striking Maang Tikka